Tour 1    1805

FR for French Player
AL for allies

FR chooses Boulogne Camp (FR can choose 1 RAM) and draws (Always randomly) 4 RAM (random events markers)
AL draws 4 RAM

The RAM can have very interesting effects on battles, operational or naval movements, diplomacy, recruiting...

The FR Emperor, Napoleon is facing a difficult choice:
Try to cross the Channel and take London and conquer the United Kingdom, France forever ennemy.
But it would be possible on a D6 of 6 !
(The Royal Navy or bad weather could prevent the crossing otherwise)
On a 1 to 5 the RAM would be lost for Nothing

Or Move the "Grande Armée" 6 MP (movement points) without any attrition.

GOOD WEATHER IMPULSE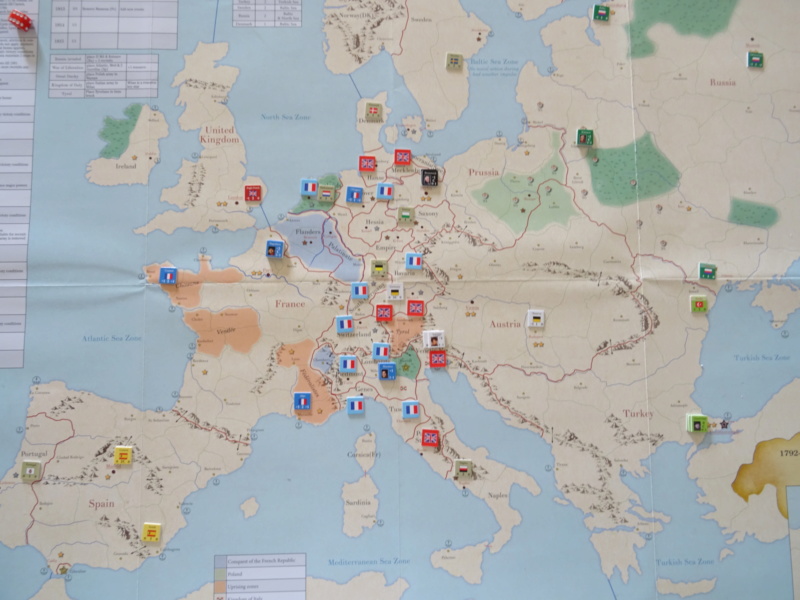 But Austria and Russia join the Coalition organised by Britain.
United the two central powers would threat the French Empire.

But their forces are dispersed.
Austrian:
One corps of 2 SP  in Ulm, an army of 3 SP in Venetia with Charles  and one corps of 1 SP in Budapest.
And Charles can't move in the Fair weather of 1805.

Russian:
Kutuzov is in Vilna with 3 SP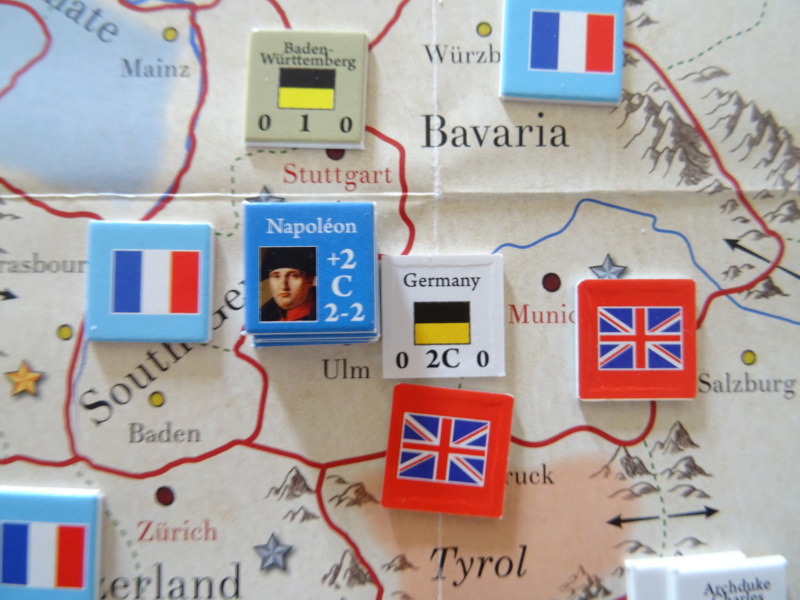 Napoleon decide to move 6 MP withour attrition with his RAM Camp de Boulogne

The Austrian Corps try to escape the battle, but his D6 is 3 +1 (it has Cavalry) = 4
But it needs a 5 +...

So There is a battle near Ulm
FR have the cavalry superiority 4C vs 1C
Both armies throw a D6 + their modifiers and inflict losses on the combat table

Austrian D6  = 4 -1 (it is at 1-2) = 3   a loss to the FR on a 1-5  D6, 1 loss to the FR Grande Armée!

FR D6=3 +6 (+2 for Napoleon, +2 for The Grande armée, +1 for cavalry superiority and +1 for the odds 2-1)
2 losses  to the Austrian corps, it is destroyed...
Napoleon wins the battle.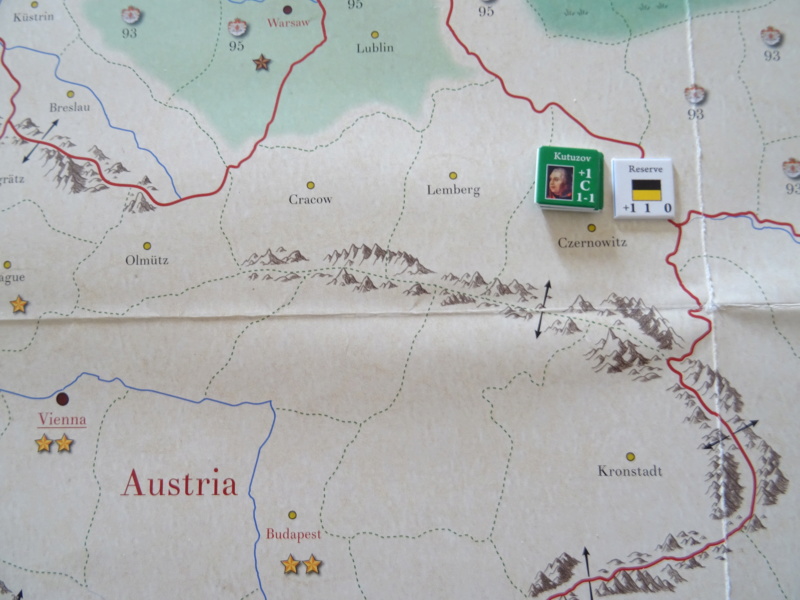 But Kutuzov is near the austro russian frontier at Czernowitz, joined by an austrian corps from Budapest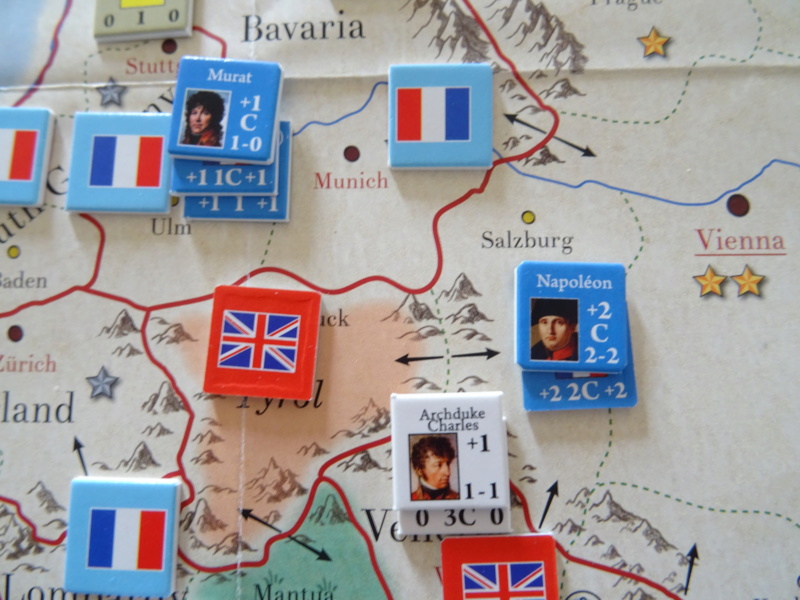 Napoleon moves again with only 2 SP grande armée unit (only 2 SP to prevent attrition risks) with 4 MP
1 MP to get Ulm city controlled, another 2 MP to move to Salzburg and control the city and the last MP to go to Vienna which stay in Austria control.

Archi duke Charles can't move, because we are still in the fair impulse.
(there are TWO impulses, Fair weather and Bad Weather, during each impulse all forces can move once, but forces with a leader can move again once).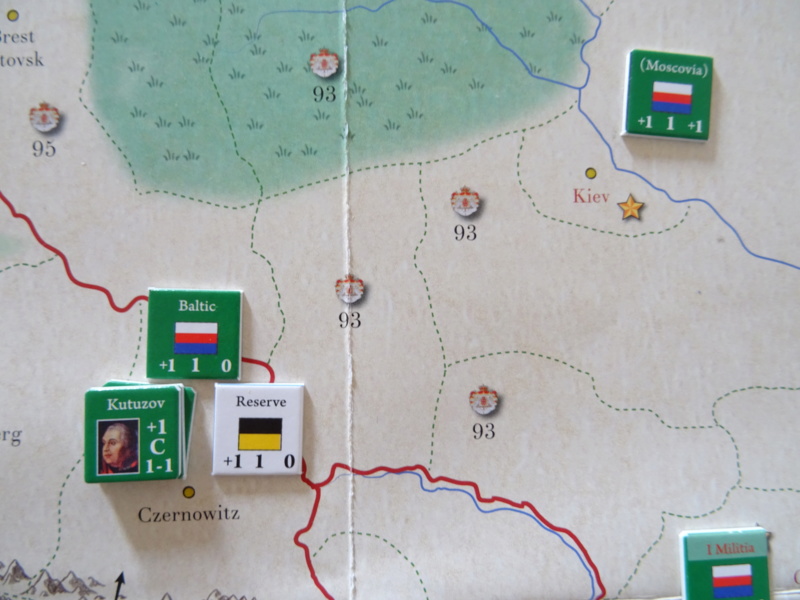 The Russian Baltic corps made a good D6 movement, just enough to join Kutuzov.
But the Moscovian corps is too far away, Kutuzov can't wait for it !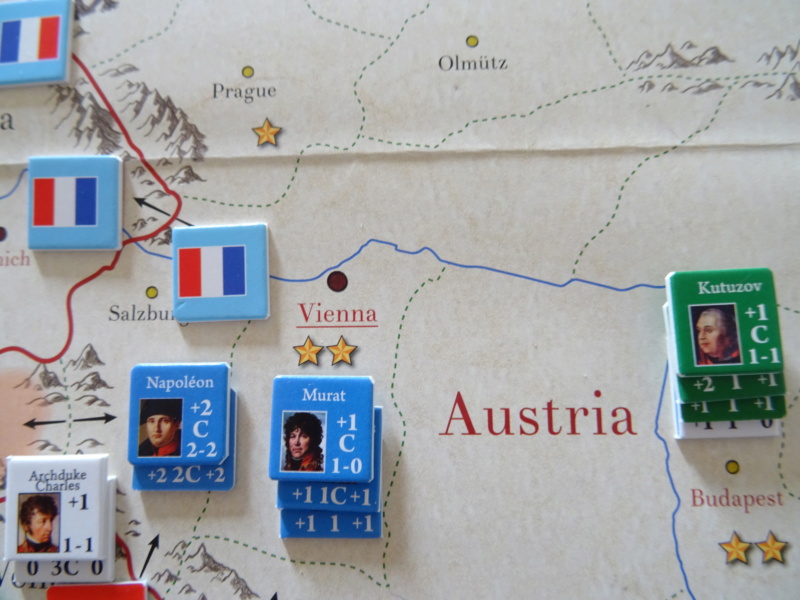 Murat Moves with 4 MP, take control of Salzburg with 1 MP and reach Vienna zone, all 4 MP spent.
Vienna is still Under Austrian control !

Kutuzov moves to Budapest.




BAD WEATHER IMPULSE
Napoleon moves and picks Murat army, reaching Budapest

Kutuzov tries to escape, his D6 =1  +1 (leadership  +1 he has cavalry) = 3,  he needed a 5+
he must stay and fight !

Napoleon (4 SP army)  has a +6 modifier
(+2 Leader ship, +2 grande armée bonus, +1 cavalry superiority, +1 he plays a RAM "skirmishers")
Result: 1+Dr4
1 loss  + 1 loss if D6 = 1-4
D6=1
2 losses inflicted to the allied army
Kutuzov (3 SP army) gets a +3 modifier
(+1 leadership, +2 guard unit)
D6=1 +3= 4 ...Dr4
But the D6 is 5   No FR losses !

Napoleon wins the battle and pursue with his cavalry (because he has cavalry superiority)
Russian 1 SP  last corps is lost !
Kutuzov army is "destroyed"...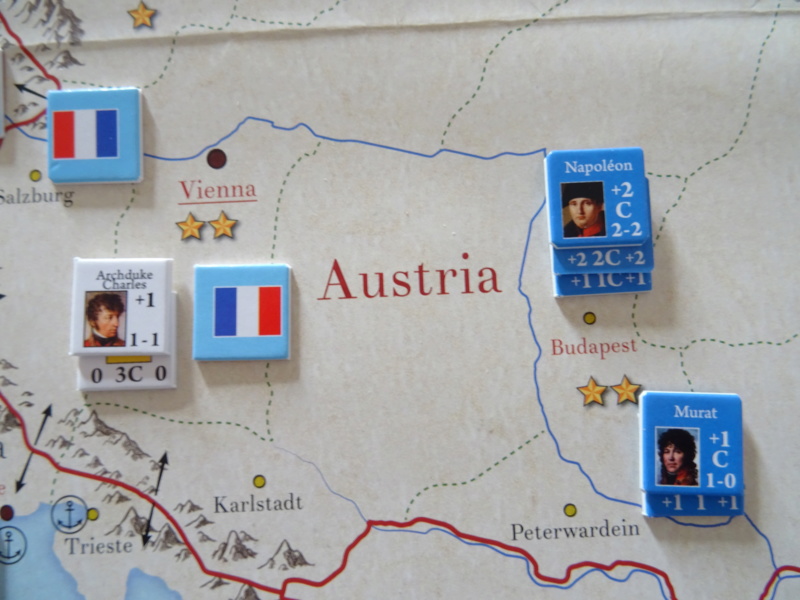 Arch Duke CHarles can move now necause we are in Bad Weather 1805.
He goes to Vienna with 3 SP.
He had two major objectives:
1/ cut the FR supply line, but he needs 4 MP to cross the mountain pass (2 MP) move to Vienna (1 MP) and take the control back to Austria (1 MP)

2/ At the end of the turn, soon, Austria will throw a D6
if it is no more than the number of political stars, Austria will stay at war
if not Austria will be conquered !

Until now Prague (1 Star) is still Under Austria control, if Vienna (2 stars) could be retaken, Austria would have
a probability of 3/6  to stay at war.But he gets only 3 MP !
He goes to Vienna zone which stays in FR control
Napoleon is still suplied …and Vienna "2 stars" are not taken back...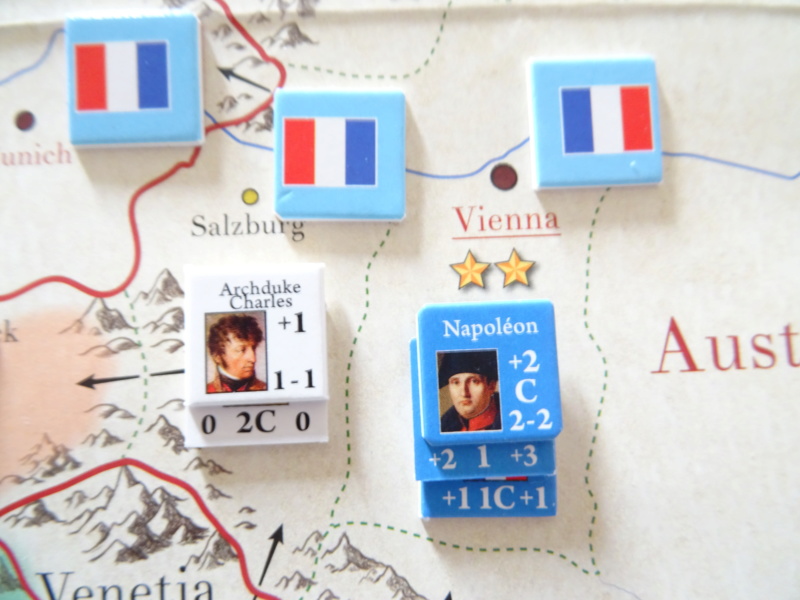 Napoleon can move a last time (the fourth movement in this 1805 turn)
He takes only 3 SP to avoid unnecessary attrition, and moves to Vienna.

If Charles escapes battle, Austria will probably surrender on D6 of 2+
So he stays and fights !

His D6 is 5 +1 (leadership)   one loss for the french !

Napoleon has a +5
but his D6 is 1 +5 = 6     One loss for the Austrians

Napoleon can't pursue because he has not any cavalry superiority (one C each)
But, he wins the battle because in case of ties  he has the best leadership.

Charles is defeated but with honor, his army fought gloriously.

Austria tries to get a 1 with the surrender ? D6
D6 = 4  Austria Surrenders !

Austria gets a mandatory peace of a D6/2 (rounded up) a D6= 4 ! so  during two  years, 1806 and 1807, Austria will
stay neutral.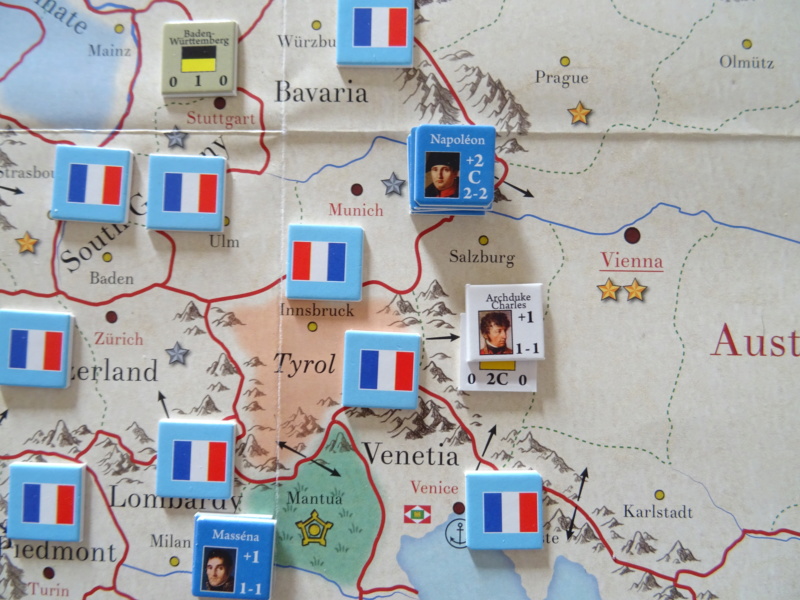 Napoleon captures Venetia and Tyrol zones (they are adjacent from french allied minors and provide a coherent front with Austria.

Napoleon put Austria out of the coalition, but Russia is still allied with the "Perfidious Albion" thinks the Emperor.

United Kingdom thinks he is the core of the Alliance against the Napoleonic Empire's Tyranny.

Two different points of view...as ever.

The war will be fierce and very long
.